Count Started 02/08/00.
The only thing twice as good as a two SW1600 display System is.
Tom's 4 eyed computer. The System below show 4 SGI SW1600 flat panel displays. The four displays are being used to display multible applications and browsers providing a far wider information solution.
In addition to 4 times the viewable information, up to 20 times the instantaneous managable information applications are possible using WatView, a integrated productivety solution.
The WatView page on managing productivity.
Click on the images to see detail size photo.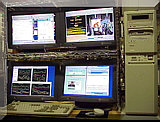 Screen 1 upper left shows browser of Clearstation and I-Watch on SGI.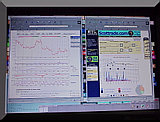 Screen 2 upper right shows browser Watman home page and picture of the Sgi Booth at Linux World 2000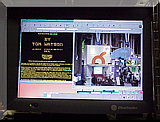 Screen 3 lower left shows IQC real time java applets of Sgi weekly and 1 minute data and Corl and Applix 5 minute data.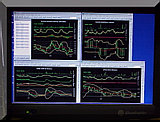 Screen 4 lower right shows browser of ON24 streaming media interview with Jan Silverman VP of marketing at Sgi and a browser of a message of the Sgi stock talk on Silicon Investor.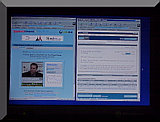 Views of Linux World 2000 119 Pics
Tom's page of other multidisplay computers.

Comments or suggestions nostaw@watman.com
This Web page and content was created in a 100% pure Linux environment.